In a world increasingly reliant on digital connectivity, the rapid deployment of 5G technology has transformed how we interact with mobile applications. 5G, the fifth generation of mobile networks, brings many benefits that fundamentally reshape mobile app development. In this article, we will explore its profound impact on mobile app development and the exciting opportunities and challenges it presents.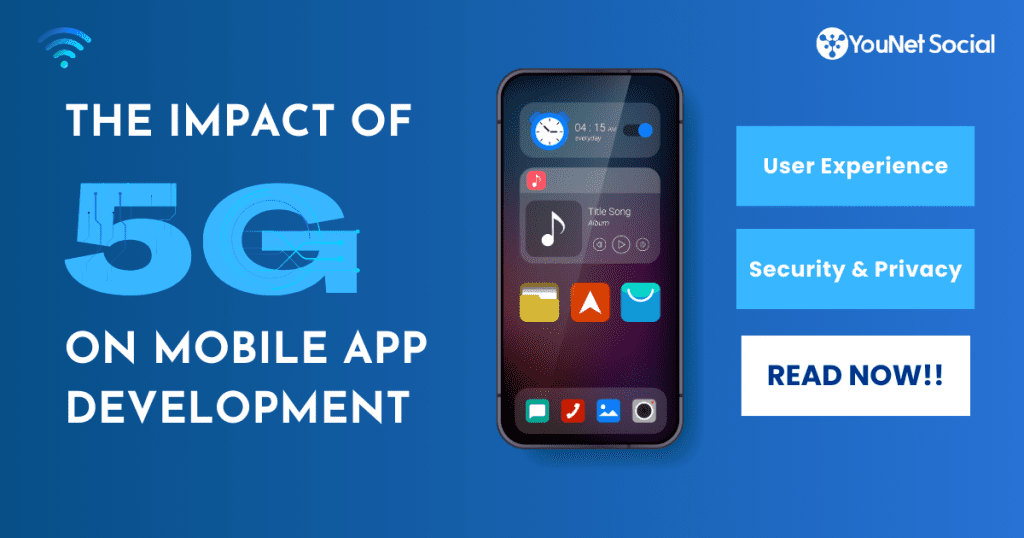 5G Technology
5G is the fifth generation of wireless technology, succeeding 4G (LTE). This innovation offers enhanced features and ultimate scalability compared to the previous version. It boasts several key features that differentiate it from its predecessors. It offers significantly faster download and upload speeds, potentially reaching up to 20 gigabits per second (Gbps). Its hallmark is reduced latency, with delays as common as one millisecond, allowing for near-instantaneous data transmission. With the capacity of 5G, networks are designed to accommodate many connected devices simultaneously, making them ideal for IoT (Internet of Things) applications. Enhanced reliability ensures consistent network performance, even in crowded or high-mobility scenarios.
The Impact on User Experience
The deployment of 5G technology profoundly impacts mobile app user experience with valuable improvements to meet increased demand. This technology improves speed and latency and comes with advanced features.
Faster Download and Upload Speeds
The remarkable speed of 5G doesn't just streamline downloads and uploads; it refreshes the concept of convenience and productivity for mobile app users. Large files and resource-intensive apps can be retrieved in seconds, and content can be shared with near-instantaneous speed. This dramatic improvement in loading speeds enhances user experiences and transforms how we interact with mobile applications, making tasks that once demanded patience and anticipation feel effortlessly responsive and fluid.
Reduced Latency
5G's ability to dramatically reduce latency changes how we interact with mobile apps. Even in situations requiring absolute precision, such as live video communication, online gaming, or virtual reality applications, 5G ensures that every operation happens almost instantly. This enhances user experience and opens opportunities for new creativity in mobile application development.
Enhanced Streaming and Multimedia Experiences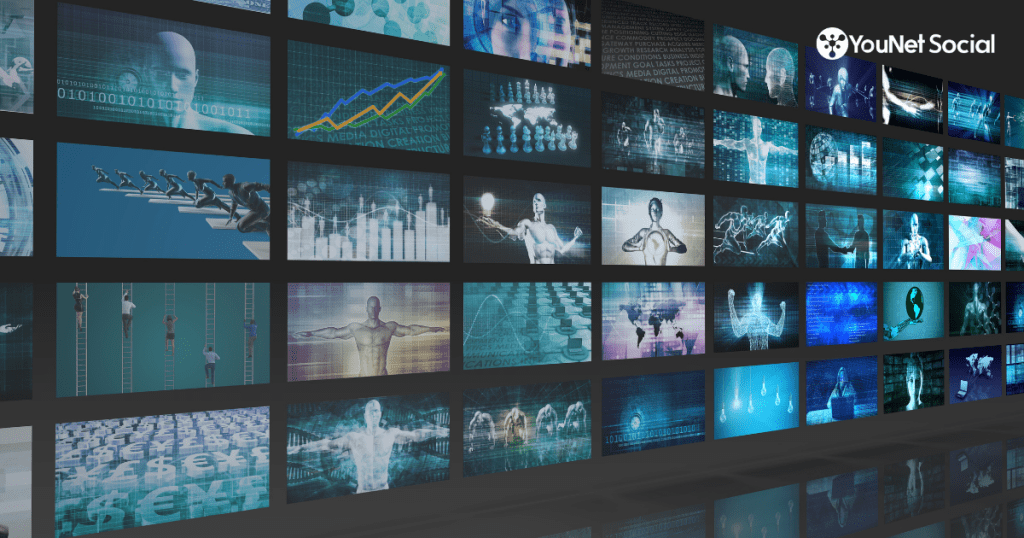 This fifth-generation network technology allows for high-definition and even 4K streaming on your smartphone or tablet. It reduces the frustrating buffering interruptions and video quality compromises. With 5G, you can indulge in uninterrupted, high-quality streaming experiences that rival traditional home entertainment systems. Whether catching up on your favorite TV series, watching live sports events, or exploring breathtaking 4K content, this technology ensures your mobile device becomes a portal to a world of immersive, crystal-clear entertainment.
Improved Gaming and AR/VR Applications
For augmented reality (AR) and virtual reality (VR) enthusiasts, 5G dramatically reduces latency, ensuring that every action and reaction happens almost instantly. This is an important step forward to create a smoother and more engaging gaming experience than ever before.
In addition, augmented reality applications also benefit greatly from 5G. Low real-time and high-speed help create more immersive experiences. 5G opens up new spaces for innovation, allowing developers to explore how to leverage the capabilities of AR and VR to create more unique and engaging applications for users.
Opportunities for Mobile App Development
5G offers promising opportunities for application developers to exploit its capabilities creatively and flexibly. For the current needs of application development, 5G is an opportunity and a powerful assistant to help promote innovation and improvement.
Leveraging 5G for App Innovation
App developers can leverage 5G's capabilities to introduce innovative features and functionality previously limited by network limitations. With its ultra-low latency, real-time applications become easier. Video calls, online games, and real-time positioning applications can be developed with high accuracy and quick response.
Optimize User Experience
5G technology opens up the possibility of developing applications with attractive interfaces, advanced graphics, and smooth performance. Application features are handled more fluidly, promoting the creation of better and deeper user experiences, from exciting entertainment applications to complex e-commerce applications.
Take Advantage of Advanced Connectivity Features
5G not only increases network speed but also provides premium connectivity features. This creates ideal conditions for developing interactive applications and integrating easily with the Internet of Things (IoT). Smart home management applications, automated manufacturing processes, and other IoT projects can be produced more efficiently, opening up opportunities for creativity in the digital world.
Network Security and Privacy Concerns
The advent of 5G technology has ignited a profound transformation in the application development landscape and various related industries. While the lightning-fast speeds and minimal latency brought by 5G networks promise unprecedented opportunities, there is an equally pressing concern—security. As internet connections evolve and become more robust, users are understandably concerned about the potential intrusion and information leakage threats. Given that concern, mobile application developers need to prioritize data security, encryption, and user privacy to ensure the safety of their apps in this new era.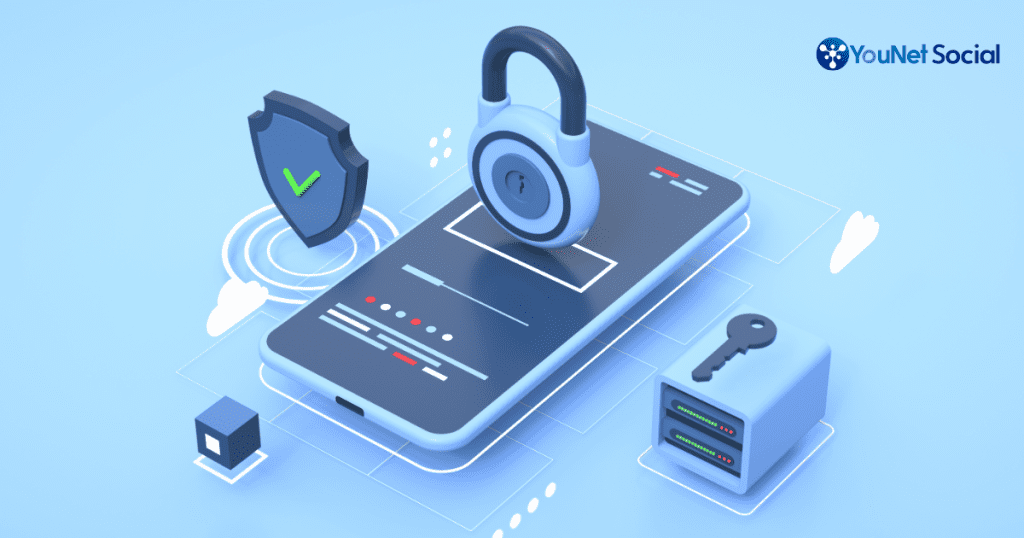 The Imperative for Data Security
Data security is not merely an option; it's a fundamental requirement in the 5G era. Mobile application developers must implement robust security measures to protect against unauthorized access and data breaches. This encompasses encryption protocols, secure authentication methods, and frequent security updates to address emerging threats.
Privacy by Design
"Privacy by design" means that privacy considerations are integrated into every aspect of the application development process. This approach ensures that user data is treated with respect and care. Developers must be transparent about data collection and usage, obtain informed consent from users, and provide them with the tools to control their data. Privacy settings should be easily accessible, and data should only be retained for as long as necessary.
Adapting to Evolving Threats
Developers must stay updated on emerging threats and vulnerabilities to mobile applications and 5G networks. Regular security audits and penetration testing are vital to identifying and mitigating potential risks. Collaboration with cybersecurity experts and adherence to industry standards and best practices can provide a robust defense against cyber threats.
Conclusion
5G technology is changing the landscape of mobile app development. The speed, low latency, and capacity of 5G networks unleash a new era of app design and functionality innovation. As developers and businesses adapt to this new reality, the possibilities are endless, and the potential for growth and innovation in mobile apps is more significant than ever.
---
YouNet Social is a web and mobile app development partner of businesses, organizations, and individuals to make your ideas and needs into a successful project. With our seasoned experts in the industry, we believe that you will have the best service and experience with us.
If you have more inquiries about this article, please Contact us for our support.